Wedding Gown Preservation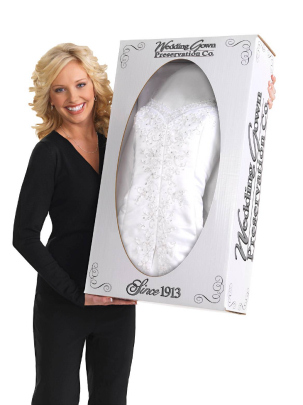 "I can't tell you how excited I am to FINALLY have my wedding gown preserved!!! I lost the wedding gown box I purchased with my wedding gown and finally found it around our 6th wedding anniversary!!!! was overjoyed to find out that I could still send in my gown!!!!! NO extra charges and no problem whatsoever!!!! The whole process was made sweeter when our 4 year old, Sutton, saw us packing the dress into the box and exclaimed "Mommy, can I wear that dress when I get married????"! My heart melted! My experience with the Wedding Gown Preservation Co. was EXCELLENT!! I will be recommending you to everyone I know! Thanks again!"
"Greetings, I had to write in and thank you for the wonderful job you did on my wedding gown. I was married September 20, 2008 in New Orleans, LA. After a stressful wedding planning process due to a hurricane season ceremony, I am so grateful for the stress-free flawless work from Wedding Gown Preservation Company. I have already recommended you to other brides, convincing them that selling isn't the only option. The affordable service is preservation of a memory! Thanks again!"
"I decided to preserve my gown to keep it looking as new as it was on my wedding day. I am very pleased with how it is displayed in the box as if I was wearing it. I will recommend it to anyone getting married to use Wedding Gown Preservation Co. Thank You very much."
"After spending months researching local dry cleaners and coming up disappointed, I contacted the folks I trusted at Lady Hamilton where I purchased the tuxedos and bridesmaid dresses for my October 2008 wedding. They suggested using Wedding Gown Preservation and I couldn't have been more pleased with my choice to follow their recommendation. My family and I were overly thrilled when we received the nicely packaged gown, veil and gloves in the mail. Wedding Gown Preservation exceeded my expectations and I would highly recommend them to all future brides who are looking for quality cleaning and preservation that will last a lifetime."
Frequently Asked Questions
What is the cost?
Contact your local dealer for exact pricing information.
Do I need to have my gown cleaned before sending it?
No. Professional and thorough cleaning is included.
What exactly is the process that you use to clean the gown?
Several different processes are used. Each gown is evaluated before cleaning and the best process for your particular gown is used. All of the processes are safe, gentle and done by hand. Please note: we do remove shoulder pads and bust forms, as leaving them in the gown could cause damage over time.
What stains are removed with your process?
We are able to remove at least 95% of all stains. Those such as tar, blood, grass stains, mud, grease and food are the most common, and of course, any sugar stains such as cake icing, wine or other types of beverages.
What can be seen through the display window?
You are able to see your gown and veil through the display window. Other items are positioned near the bottom of the window, where possible, or underneath the gown.
If I need to open up the preservation chest at any time in the future, will that jeopardize or void the guarantee?
Your guarantee will not be voided, however, you should take care to reseal the chest with the resealing materials provided. We have also enclosed gloves with which to handle the gown. If your gown is handled excessively or soiled, it should be cleaned and preserved again.
What else can I send along with my gown?
You may also send items such as your veil, headpiece, gloves, garter, moneybag, handkerchief, slip, flower girl gown, etc. (Additional fees may apply)
What kinds of repairs are done to the gown?
Our highly trained staff can handle most repairs for a nominal fee. Ask your dealer for additional information.
What if I want to declare more value?
Talk with your dealer and make arrangements. Options are available for dresses with higher declared values.
Is my gown guaranteed?
Yes! We provide a 100 year guarantee against caramelized sugar stains or yellowing. If at any time your gown is found yellowing or having caramelized stains we will reprocess the gown at no additional cost. If the reprocessing is found unsuccessful we will refund the preservation cost. REMEMBER: NEVER store your gown in the attic or basement.