Dealers In The News
Sandy Lewis &amp Cindy Taylor, Kerville, Texas

Story by Carlina Vallalpando
Kerrville Daily Times Living & Arts Editor

Preserving Memories
Local women find unique business, ministry opportunity in innovative flower preservation
Wouldn't you love to have your great–grandmother's original wedding bouquet? Or the corsage from your mother's sweet 16 or senior prom? Two local ladies, Cindy Taylor and Sandy Lewis, are hoping that others cherish flowers as they do, because they have found a way to preserve them so that they can last virtually forever ... and it's far from the all–too–common pressing of flowers between pages of a book.
Their method keeps flowers looking as if time stood still. It's a procedure they've obtained through Suspended In Time® – a floral preservation dealership they launched in March.
It's a venture they say is not just about protecting special occasion flowers, but about preserving memories and the essence of the people those flowers represent.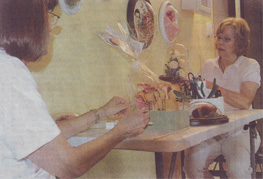 "It's really about the people and those they care about," Taylor said. Since floral preservation is a business that intersects with people as they are experiencing a variety of major life events, whether it be a wedding, funeral or baby's birth, she and Lewis said they make special effort to care for their customers' unique needs. Sometimes, that means just spending time listening to them reminisce about their loved ones, or on other occasions, it may require them to go extra lengths to retrieve flowers after a full-day of festivities.
Generally, the duo can preserve flowers up to two or three days after the event. All displays must be completely encased behind airtight glass, which makes framing or sealing in dome settings ideal.
Some people opt to preserve their entire arrangements, while others choose displays that use only a portion of their original flowers. Floral preservation with Suspended In Time® Kerrville ranges between $35 and $600 and can include encasements behind frames, using photos, in jewelry or shadow boxes, table domes or inside ornaments, depending on what a customer wants to see and spend.
Taylor and Lewis said it is best for clients to talk with them before the event to decide what encasement they'd like and how to arrange transfer of flowers. However, they are available at the last minute, such as the case with funerals, to work with clients.
They offer payment plans and gift certificates. For information, call Taylor at 830-285-8721 or Lewis at 830-285-5600.