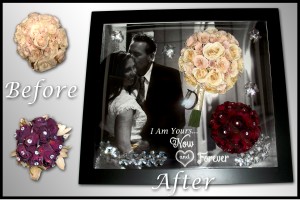 This beautiful encasement has the brides original bouquet from her wedding day 5 years ago restored and her bouquet from her temple sealing she and her husband did this past year. Then we created this custom piece of modern art work with her flowers.
Upon picking up her flowers Pamela wrote a testimonial out for us as follows, "I had been saving my wedding bouquet for 5 years thinking, "One day I'll find something to do with this". Then I found Suspended In Time. I came to them with what I though was a little out of the box idea. I showed them samples of what I liked with different arrangements and with their insight, experience, and talent we all worked together to help make my thought into a beautiful reality! I couldn't be happier!! What a comfort knowing my memorable day will be protected and looking like that for years and years to come. Thank you Suspended In Time for doing what you love!" And thank you Pamela for being such a pleasure to work with. We wish you many happy years with your husband.
If you are interested in finding a location near you to get your own flowers preserved or how to become a dealer and own your own Suspended In Time Business feel free to call us at (801)227-0075 here at the corporate office.