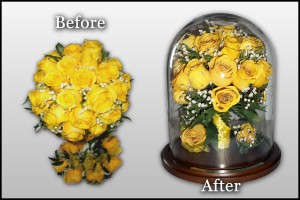 After you spent so much on flowers what are you going to do with them?  They get dry, brittle, and brown just hung upside down…Don't waste your investment, turn it into something you can showcase in your home or office.  Add memorabilia to make it more personalized and customized to your tastes.  Suspended In Time specializes in preserving your special memories into keepsakes, that you can enjoy for years to come.
When our customer picked up her encasement she left us a note that said…" The flowers turned out so beautiful and were arranged so nicely.  I love it!  It is a great reminder of our special day."
Call us today to see what we can do with your old flowers and memorabilia.  801-227-0075 or www.suspendedintime.com.